This years party was the largest party in the clubs history.
Click on any picture for a larger view




President Smith receives his Official Gavel
Kane County
" We're looking forward to better days ahead! "
..........we'll be back! Chicagoland Replicar Club~

Cold and Wet and a good day to stay home
We were under the tent w/them and
members Pat & John Chambers...we
had lost track of Bill Robertson and Brent-
IS THAT POLE SUPPOSE TO BE BENT LIKE THAT
Elks Car Show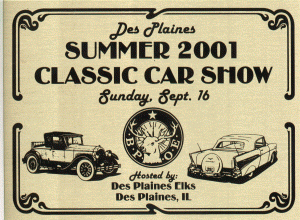 Well, looks like we had 6 cars representing the club-plus a guest that
may be joining, with his Cobra
Dave Bagwell from Bloomington IL with the Predator

Ken and Meha Smith with their MG TD


Jim Donohue, from Barrington,IL in the club line-up with his 1936 Auston
Martin




Rich Gideon, from Schamburg, IL with his Vintage Customized Corvette



Brent & Nancy Menger, from Villa Pk,IL showing his replica of 1885 Daimler
Motorcycle and his handcrafted 1908 Mercedes Grand Prix Racing Car~




Bob Faulstick, from Morton Grove,IL in his Brand New Red Prowler!

Mark and Sue Weseman, from Wheeling, IL Participating in the Elk's Classic Car Show .
The Wesemans' and their '65 427 S/C Cobra Replica


Mark finished building this year!

Members on foot ...that came to see the show and share some sunshine with the
club were, , Pat and John Chambers, Al Howski, Tom & Hilda Mateer and Bill &
Kate Schmidt.


Club Central Sandwich

4 of July Parade
Eight cars from the Chicagoland Replicar Club participated
in the Parade.
New Member: John and Sarah Hallstrand
Participated in the 4th July Parade and joined members at the Smith Member's
BBQ



John and Sarah Hallstrand of Oak Park, IL - The newly acquired '57 Sports
Speedster Porsche-Cream color and tan interior, made it's début at the
Northbrook Parade.
Ray Hudash (in '29 Lincoln)



This was a cute shot, by Ed Taicsich (I don't know if it was planned or not...

----- Rich and Ann Mulhall (T Bird) '55


Jim's Astin Martin...


June 6 Picnic
Our thanks to Dave and Marie for volunteering their home for this event
The Cars



The People




The Food

Hot Rod Power Tour
WE had several members show up at the Joliet Stop


Pictue of Ken presenting award to Jim
Young's-





All Pictures are thumbnails to speed up loading time.
Click on picture to make larger


Dave and Robin Bagwell with their Predator



Ken and Meha Smith with their 52 MG TD


Steve and Ginny Kemper, with their Classic Roadsters Sebring 5000




Bill and Kathryn Schmidt with their 65 Cobra



V-8 Archie with one of his V-8 Finale
There were also several potential new members and other kit and replicas owners there


'55 T-Bird
Charles Siewert-President of Regal Roadsters Madison, WI. (808) 273-4141
www.regaltbird.com

Union Car Show


Jack & Kathy Fricke's Gazelle in the club line up

Owners/Members John & Pat Chambers from Barrington, IL
parked their Excalibur in the line-up at the 11th Annual
Union Railway Car Show!

Naperville car show


Kathryn & Bill Schmidt packing up to go home
with their 2nd Place Trophy at Naperville Car Show.


Bill Schmidt receiving 2nd Pl. trophy at the Calvary's 1st Annual Classic
Car Show

Vice-President Keith Royal accepting 3rd Place Trophy at Calvary's
1st Annual
Classic Car Show


#5 Keith Royal waving and he checks out
Dean Kolar's car at Naperville Car Show.

Steve Kemper's Classic Roadsters Sebring 5000